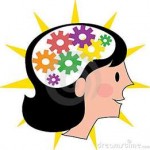 As we move through middle age and transition over to the menopausal side of things, our memories can take a hit. The whereabouts of the keys, the scheduled but forgotten appointments, the reason we went downstairs—all seem to defeat us at times. Here are 10 practical Memory Tips to help make remembering a little bit easier:
1.
Jot everything down on sticky notes
2.
Place sticky notes in places where you have to see them: bathroom mirror, kitchen counter, car dashboard, computer screen, in drawers, etc.
3.
Write down your appointments the moment you make them.
4.     Jot down appointments in a variety of places: ie- your planner, your calendar, and your phone.
5.
Keep your mind active with games (crossword puzzles, computer games, etc.) and with new information (study a foreign language, learn a new sport, pursue a new hobby, etc.)

8.
Take your vitamins ( we love Omega-3, Vitamin D,  and Calcium)
9.
EXERCISE  (it helps everything)
10.   Manage your stress: Regularly engage in activities that replenish you. Whether that is spending time with friends, listening to music, practicing yoga, cooking….whatever your fancy, remember to actively engage yourself in activities that renew you!
What helpful tips do you have for improving your memory? Please send in your best memory tips and you just might see them here soon (Please do it now so you won't forget!!)