Sung to the tune of "I Had a Little Dreidel"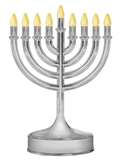 I had a little hot flash,
The seventh one today
My clothes are soaked, I'm shvitzy,
And now I'm cold, Oy vey!
Oh weight gain, night sweats, mood swings,
fatigue and itchy feet,
I can't light the menorah
'cause the candles give off heat.
I want to make some latkes
for all my girls and boys,
Oops I forgot potatoes,
So we'll skip right to the toys!
It's Hannukah with family,
We celebrate, we eat,
Please seat me near the window
I'm dying from this heat!
I really do feel grateful
I'm alive, life's good, you bet!
Let's dance around the table
I don't care if I sweat!